Aprill 22, 2020
CHRIS MILK
Chris Milk is an American entrepreneur, innovator, director, photographer, and immersive artist. Milk studied Music and Film at the University of California and eventually received his BFA in film, photography, and Computer Graphics at the Academy of Art University in San Francisco, California. He started his career with directing music videos and commercials for artists and brands. The bridging between emerging technologies and new mediums for storytelling is what Milk is best known for.

Chris Milk's website is nicely laid out with a variety of works he has done. I appreciate that there is a lot of different types of art that he has made: interactive work, installations, videos, photographs, etc. One of the coolest installations that Milk has was at the 2011 Coachella Music and Art Festival. I'm reminiscing on summer festival season so watching his video on his website was exciting. I also enjoyed looking through his portraits (of mostly famous people). My favorite images are probably the ones of Kanye West and Obama. All around I enjoy all of his work that seems to be brand/client based.
April 22, 2020
EVAN ROTH
Evan Roth is an American artist who was born in 1978 who uses hacker philosophy to achieve visual transient moments in public space, online and in pop culture. He received a degree in architecture from the University of Maryland and a MFA from the Communication, Design, and Technology school at Parsons The New School for Design. He developed several projects that included Graffiti Taxonomy, Typographic Illustration, Explicit Content Only and Graffiti Analysis. These projects made him on of the most interesting graduates of 2006. Roth's fascination with graffiti, open source technology, and public space led to the forming of the Graffiti Research Lab (GRL). He is also the co-founder of the Free Art and Technology Lab (FAT Lab).

I find Evan Roth's art work visually pleasing and his website to be really cool. Since doing these blog posts I have found that I appreciate technology based a lot more when they have meaning behind their works AND visually look aesthetically pleasing. I enjoyed looking at Landscape with Ruin because his use of the light pink to red colors is really cool – stands out and intrigues the audience. It reminds me of a cyanotype, but in red… a redotype if you would. I think a cool pop-culture related work he did was White Glove Tracking where they trackers Michael Jackson's white glove in multiple frames of his televised performance of Billy Jean. Also, I found his Self Portrait piece to be conceptually cool. It consists of images of hidden data tat passes through our browser everyday. This piece he says is a portrait of him, but also the internet and is constantly changing.
April 20, 2020
WAFAA BILAL
Wafaa Bilal is an Iraqi-American artist who was born on June 10, 1966. He is best known for his video, electronic, and new media art. Bilal's piece Domestic Tension is one of his most famous pieces, which was a performance piece where he lived in a gallery for a month and was remotely shot by paint-balls by people over the internet in protest of the Iraq War. He based it off of his book, Shoot an Iraqi: Art, Life and Resistance under the Gun, which deals with the horrors of living in a conflict zone and growing up under Saddam Hussein's regime. Bilal moved to the United States in 1992 and studied art at the University of New Mexico where he got his BFA. Later, he moved to Chicago and received his MFA at the School of the Art Institute of Chicago.

I really appreciate the powerful work that Bilal has created. I love how he communicates his personal experiences through his art – which is the reason I think makes it so strong and powerful. I enjoy his work and Counting… which is a piece dedicated to his brother who was killed by a missile at a checkpoint. Bilal addresses the double standard by turning his body into a canvas for 24 hours. His back is tattooed with a border-less map of Iraq covered with a dot for every Iraqi and American casualty. American soldiers are represented by a red dot, while Iraqi casualties are represented by a neon green dot that is only visible with a UV light. Bilal asked each visitor for a $1 donation that will go to the group Rally for Iraq, to fun scholarships for Americans and Iraqis who lost their parents in the war. Another work I enjoy by him is The Ashes Series where he focuses on the absence of human life in homes, represent destruction and preserve the moment of serenity after the dust has settled.
April 15, 2020
LAUREN MCCARTHY
Lauren McCarthy is an American artist and computer programmer who is known for her works that use a variety of techniques and media, including performance, artificial intelligence and programmed computer-base interaction. She attended the Massachusetts Institute of Technology and received her BS in Computer Science and a BS in ART and Design. She then received her MFA at UCLA in 2011. Works of hers that stand out the most are the smart devices like Amazon Alexa or Google Home that take on humanized roles.

Lauren's works remind me of an episode of Black Mirror or that movie Smart House – all around a creepy vibe because of how human-like the devices are and how another human can control the devices that another human uses. Her piece Lauren is a human version of Amazon Alexa, I don't know if a person watching me through technology or just a piece of technology watching me is any better. I enjoy her pieces Tools for Improved Social Interacting that are a series of clothing items that are also wearable devices that use sensors to condition the behavior of the wearer to better adapt to expected social behaviors. The idea of this piece is very interesting and unique. As I gazed through her website a lot more, her works gave me BIG Black Mirror vibes. Mainly Lauren's piece Social Turkers which involved real-time feedback of social interactions occurring.
April 6, 2020
Sorry I got the artists mixed up 🙂
RAFAEL LOZANO-HEMMER
Rafael Lozano-Hemmer, who was born in 1967, is an electronic Mexican-Canadian artist who is known for his interactive installations that mix architecture and performance art. Rafael attended Concordia University in Montreal and received a Bachelor of Science in physical chemistry. He incorporates computer graphics, projections, robots, positional sound, ultrasonic sensors, as well as may other devices, and some are used as a platform for participation to emphasize the message of the increasingly homogenized urban condition.

Rafael Lozano-Hemmer's work looked really familiar to me because I experienced his work Pulse at the Hirshhorn Museum in Washington, D.C. I enjoy how a lot of his work is engulfing and participatory. I love the idea of walking into a piece of work and being only surrounded by that because I have nothing else to focus on besides the art. The platform for participation he allows has the same affect because it engages the audience a lot more. I really fell in love with his work Cloud Display. I find it so cool that a person can speak into an intercom and the work writes out the word in water vapor – like what! that's so cool wow! Another work that caught my attention was Sway, which is a kinetic sculpture and somewhat acts as a pendulum. This work was made to represent the rate of homicides in the world – which makes it a very powerful piece. All in all I love Rafael Lozano-Hemmer's work, the advanced technology that he uses to create these pieces make them outstanding.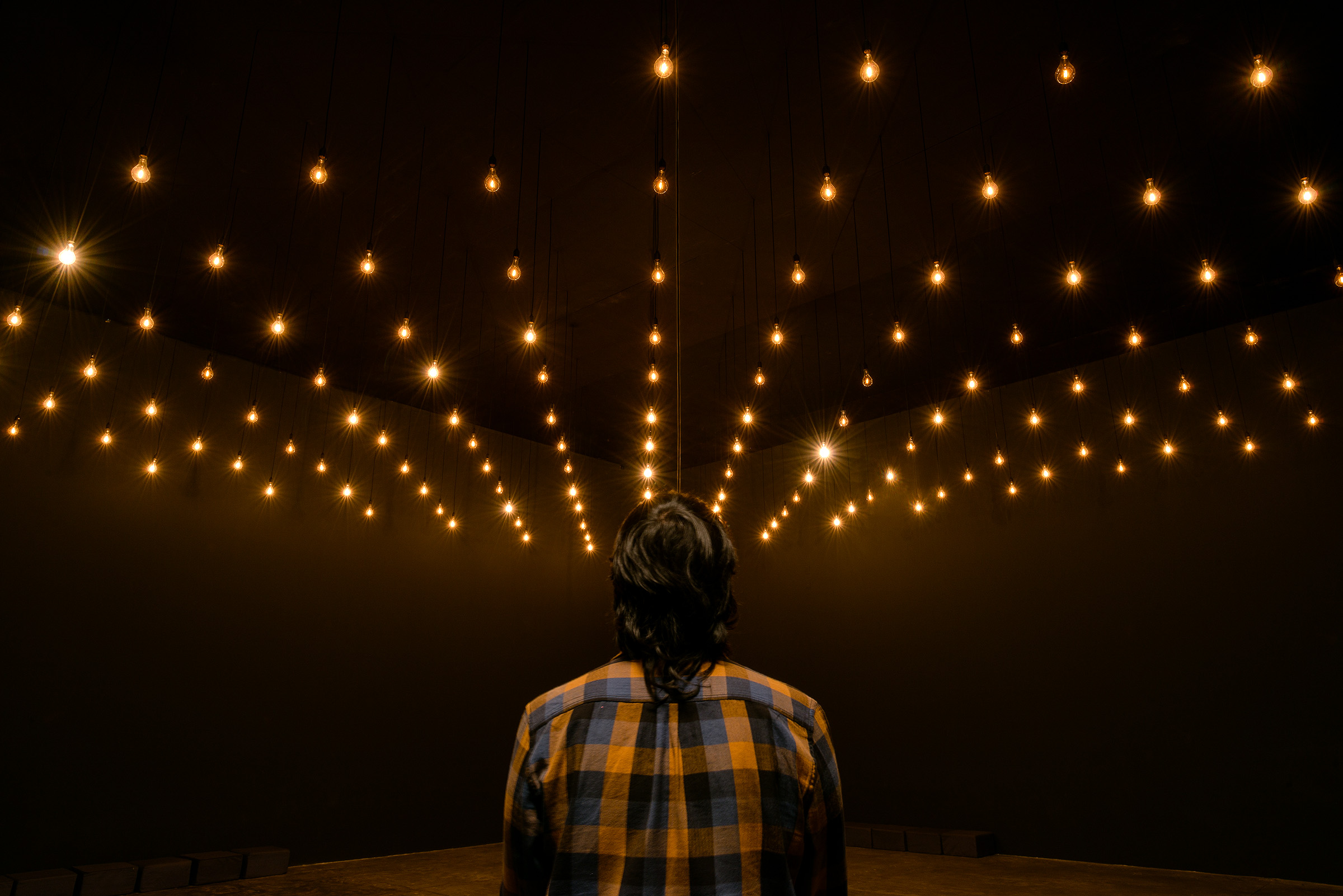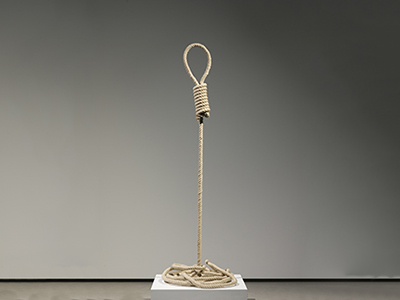 April 1 (already???), 2020
JASON SALAVON
Jason Salavon was born in 1970 and is currently thriving as an American contemporary artist in Chicago. He went to school at The University of Texas at Austin, where he grew up, and received his BA. He later went to The School of the Art Institute of Chicago and received his MFA. Salavon is most known for his artworks that are created using custom computer software to manipulate and reconfigure preexisting media and data. A way that they are created is by overlapping images and averaging the results.

I really enjoy the process that Salavon uses to create these works of fine art. Also, the works themselves are pleasing to the eye and don't enable my fight-or-flight response like our last artist. Although, the digital work he produces give me a Cory Archangel vibe. I like his piece The Top Grossing Film of All Time (2000) which is a piece that is the whole Titanic movie broken up into constituent frames. I find looking at this amazing because you can see the color composition throughout the film. I think I'm just drawn to the artworks that look cool because his American Varietal (2008) is a digital collection of curved sheets that visualizes the growth of the US population over the course of 220 years. The other work that visually stands out to me is One Week Skin (2012) that is large print of exactly one week on specific pay-TV networks at 15 frames per second. It's so fascinating how he makes art out of things that happened through time and makes something visually new out of them. I think that's what differs him from Cory Archangel – he uses what we think of as everyday life content, but makes it something entirely new and puts a lot of work into it.
March 30, 2020
MARIA CHAVEZ
Maria Chavez was born in 1980 in Lima, Peru. She is an improviser, curator, and sound artist who creates interactive experiences and abstract "sculptures" by randomness, accidents, experimentation, and intentional abuse to some equipment. Wow! With the influence of some contemporary works of art, the sound installations and turntable performances shes made mainly focus on the paradox of time and the present moment. Some of her inspiration comes from turntablist, William S. Burroughs, and trombone player, David Doe.

To be brutally honest, I do not like her contemporary sound art at all. Her DJ mixes and some sound installations are cool ((and bearable)), but other things like her joint performances and dragging a needle across a vinyl make my anxiety skyrocket and rub me the wrong way. She explains in an interview that sound art is very conceptual like spacial sound areas being mostly participatory. I give her credit for creating more conceptual work, but it's not really my cup of tea. I do really enjoy her other work that was in The University of Richmond Museum, Topography of Sound: Peaks & Valley Series. The exhibition features drawings and paintings that show the similarities of microscopic images of vinyl to the traditional approach in landscape illustration. I really enjoy the way these drawings and paintings look and the concept behind them.
March 23, 2020
TAKESHI MURATA
Takeshi Murata was born in 1974 in Chicago, Illinois. He is an American contemporary artist who is most well known for his digital media artworks which were made by using video and computer animation. Murata's first solo exhibit was at the Hirshhorn Museum and Sculpture Garden in Washington, DC with his work Black Box: Takeshi Murata (2007). Pink Dot (2007) is another work of Murata's that became a permanent piece at the Hirshhorn. Also, his work Monster Movie (2005) is a permanent piece at the Smithsonian American Art Museum.

Personally I'm not the biggest fan of his most known video/computer animations like Pink Dot and Monster Movie. But! they are still interesting to watch! Also, it was interesting to find out that Robert Beatty actually has his own work titled "Soundtracks for Takeshi Murata" that were made from 2004-2007. The Pink Dot (2007) video is made with one of these songs from the soundtrack, Untitled (Pink Dot), which is pretty cool. Other works, like his Get Your Ass to Mars pigmented print series (2011), that he made give off a vivid psychedelic feel and look like a very weird dream. He does an excellent job at producing these prints with strong colors, shadows and lighting.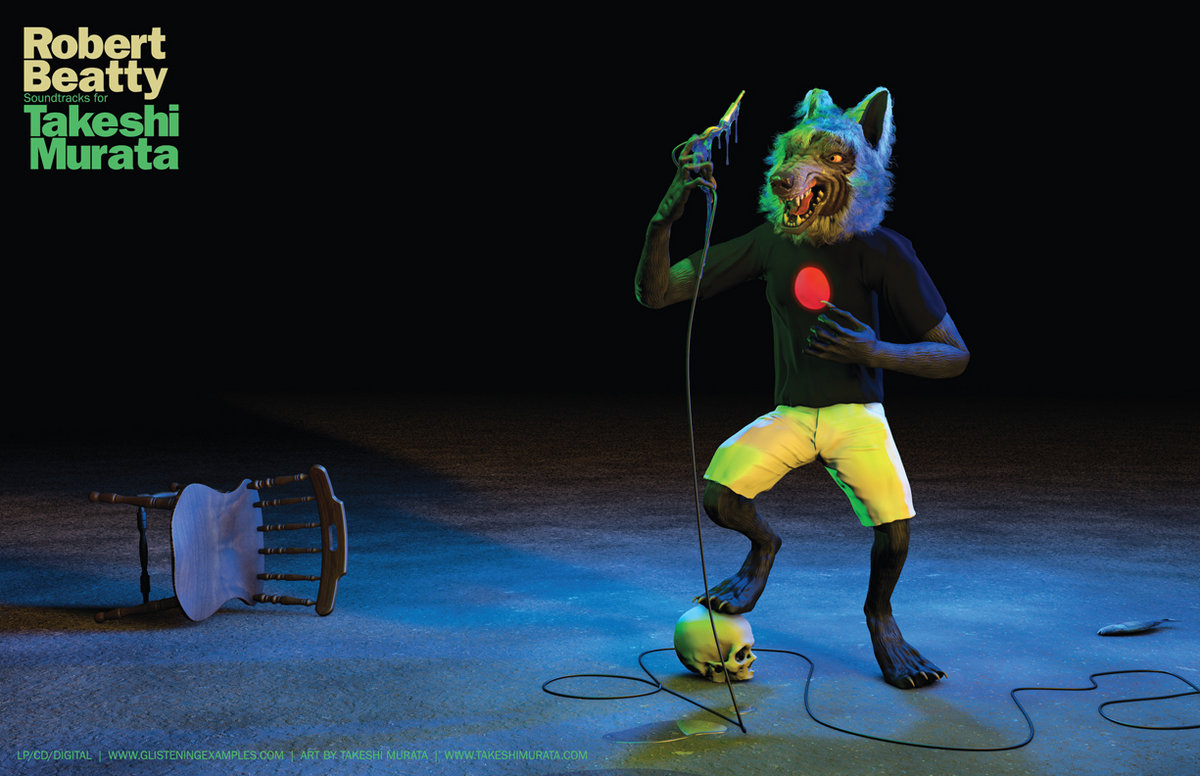 March 18, 2020
KIRSTEN LEPORE
Kirsten Lepore is an animator from New Jersey, best known for her stop motion films. Lepore earned her BFA at the Maryland institute and her MFA at CalArts. She has also won various awards like Student Annie Award and South by Southwest for animation. Lepore has done multiple personal projects and client work like Skippy peanut butter commercials, Stunt Nut (2018), and animations for Google, Google Doodles (2015).

Besides her animations, Kirsten Lepore's website is probably the best I've seen ever! When going on her website it was very easy to find her videos (through vimeo) all laid out and easy to click on. Some of her animations I immediately recognized from seeing them on tv and on twitter. It was amazing to find out that she actually wrote and directed an Adventure Time episode, Bad Jubies (2016). Adventure Time was one of many cartoon shows I grew up on so obviously it's one of my favorite works by default and I appreciate it a lot more. As well, I recognized her video Hi Stranger (2016) because there was a little clip taken from the video that was trending on twitter for a while. I really enjoy all of her stop motion videos she is probably my newest favorite animator.
February 26, 2020
CORY ARCANGEL
Cory Arcangel is an artist who works in many different mediums like music, videos, drawings, performance art and digital art. He is from Buffalo, New York and currently works in Brooklyn, New York. His work is revolved the idea of appropriation, creating "new" works from previously existing materials. His main idea behind this is to preserve cultural things that have disappeared through time, provoking a nostalgic feeling. Arcangel uses appropriation to visually show the relationship between digital technology and objects of pop culture.

The idea of someone taking something someone else made, making few modifications to it and calling it theirs is something I am back and forth on. I appreciate process art so for someone to make the Super Mario video game is amazing, but for someone to digitally take a section of that video game out and call it theirs doesn't seem like art to me. I feel like its a kick in the shins to the person who actually did create the background for the video game. Another piece by Cory Arcangel I came across on his website was a blown up screenshot of Paris Hilton's Instagram photo on a digital screen. I appreciate the process of making that, but I feel like it lacks conceptually. His piece First Class (2015) that consists of pool noodles leaning on a wall with necklaces, socks, armbands, and jewelry on is really funny and more appealing to me. Although they are man-made objects, he is portraying them in an original way which I appreciate a lot more.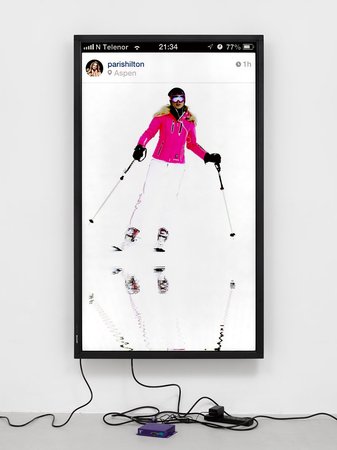 February 24, 2020
KELLI CONNELL
Kelli Connell is a photographer and digital artist from Oklahoma City who now lives in Chicago. She received her MFA in photography at Texas Woman's University and received her BFA in photography and visual arts at the University of North Texas. She is most known for her series called Double Life which has five categories. Double Life is a series of manipulated photos of the same model visually playing the role of two people. In an interview, Connell says the meaning behind the same model depicting two people is to question sexuality and gender roles that shape the identity in intimate relationships.

When doing this artist blog I was thinking in my head "I've heard this name somewhere before I just can't remember," and when I searched her name and the series of Double Life popped up I realized that Rosemary had previously shown us Kelli Connell before. Our photo I class critiqued this series in class one day and all of us were confused as to what was going on. Twins? Same person? We're confused?? but as we kept searching we figured out that it was the same model and the meaning behind her work. I find this series very powerful because I've never seen anything like it before and because it keeps the audience guessing as to what is going on. My favorite pieces from Double Life are Asleep at the Wheel (I), Carnival (II), and Hers and Hers (V). All these digitally manipulated photos/digital negatives have a theme of small moments/memories of intimacy which is very soothing and calming to look at. Also, the color composition is something I enjoy with brighter colors within different tones of muted colors which carries a good balance to the photo. Although Pictures for Charis is coming soon this one picture she has on her website was taken on Mt. Whitney in Northern California. It stood out to me more because I have my own personal experience of hiking Mt. Whitney when I was younger.
February 10, 2020
RASHAAD NEWSOME
Rashaad Newsome is a contemporary artist who was born in New Orleans, Louisiana in 1979 and currently lives/works in New York City. In 2001, He went to Tulane University and received a BFA in Art history. He has had multiple exhibitions and performances in galleries, museums, and festivals all around the world. Some of these exhibitions and performances included: Contemporary Arts Center New Orleans (LA), The Studio Museum in Harlem (NYC), The McNay Art Museum of San Antonio (TX) and many others. Also, Newsome has won many awards for his work, some of those include: 2019 MAP Fund grant, 2017 Rush Arts Gold Rush Award, and a 2011 Louis Comfort Tiffany Foundation Award. Most of his work ranges from collages, sculptures, videos, music, computer programmings, and performances.

Some of his work is very intriguing to look at, especially his delicately framed collages (which he is most known for). I enjoy looking at them a lot because they hold lots of detail and keep your eyes constantly wandering. It looks like an optical illusion that would be seen on a Gucci item. He has a way of using repetition, LGBTQ and people of color subject matter, renaissance-like colors and putting all that together with elegant frames. Another one of his works I really liked was Shade Compositions (SFMOMA), 2012 which is one of his video productions. This video was powerful and moving, but also humorous at the same time. Although I find most of his works intriguing, there are some works that I don't quite care for. In the sense that I might not understand them or just a preference, but his works Spin Dips (Davon), 2016 and Floor Performance (Derek), 2016 are not particularly my favorites because they don't seem to have the same "power" or "ompf" that the framed collages hold.
Shade Composition (SFMOMA), 2012, Performance video
https://rashaadnewsome.com/performance/shade-compositions-sfmoma/
January 22, 2020
ROBERT BEATTY
Robert Beatty is an American, surreal artist and musician who was born in 1981 near Nicholasville, Kentucky. He is in a band called Hair Police with his album, Three Legged Race. Beatty's most popular work is Tame Impala's Currents album cover back in 2015. He does a lot more psychedelic works for other popular album covers like Burning Star Core's Challenger in 2008 and Kesha's Rainbow in 2017, even a Cage the Elephant music video for House of Glass. Beatty has ever attended any schooling past high school, but instead worked at radio station, a gas station, and as a janitor. Although he hasn't attended any schooling past high school, he is very skilled in using Adobe Illustrator and Photoshop. Beatty draws inspiration from Masakazu Kitayama's Fantasma album cover, Piotr Kamler animations, and Lillian Schwartz. His psychedelic works have opened many windows for him, like Wired and New York Times being clients of his.

I really really really love Robert Beatty's art work. The psychedelic and fever dream-like feeling that they give off is visually pleasing. His website is nicely laid out so you can see all of the album covers or pieces he has created. All of the work he makes is full of vibrant colors and geometric shapes. Being a big Tame Impala fan I really like the Currents album cover because of how it computationally looks. The way your eye follows the wavy lines to the circular ball and repeat is nice. Another album cover I like is U.S. Girls In A Poem Unlimited because it's a little different from his normal style. This album cover gives off more of a serenity vibe for me. Another work I like is Color Blind Pal, which he illustrated for the New York Times. It gives off a very nostalgic feeling for me because I'm from Arizona. I listened to a song from his album and I sadly have to say it is definitely my style.