FINAL PROJECT: FAMOUS PAINTINGS BUT MAKE IT CASSIDY
For my final project for my Digital Approaches to Fine Art class I wanted to recreate famous paintings, but with me as the subject matter. I did this by using the "masking" technique in Photoshop and playing around in Lightroom too. I had a love hate relationship with this project. As you know I'm more of a hands-on type of person (i.e. painting or ceramics) and I believe technology is out to get me so you can imagine how frustrated I got when I made a mistake or something didn't go as I planned. Besides that! I'm really proud of how these turned out!
Since I live on a farm I decided American Gothic was a perfect painting to recreate! I grabbed some clothes, a pitchfork and went outside. I struggled a lot with the lighting because this particular day it went from sunny to cloudy every 30 seconds so I had to act fast. This was my first attempt at the masking technique!
After taking these pictures, I realized my camera was out of focus, but I feel like it add to the "oldness" of the real painting. Also, I struggled a lot with the lighting when taking these pictures. I probably have two or three warm-lit-lamps on their sides facing me for my light source. I had to edit some shadows into the picture using Lightroom. Over all it was a fun and interested painting to recreate!
Let me just tell you that this was the most difficult thing I have ever done in my life. I spent two whole days on this piece and I now have a greater appreciation for people who use Photoshop. With the idea of recreating famous paintings in my head, I was in my dining room one day eating breakfast and I looked at my giant farm-styled kitchen table and my symmetrical doors next to it and thought – THE LAST SUPPER! I set up my camera on a tripod, moved my whole dining room around, found a lot of props, and started taking pictures. I had to act fast because of the lighting coming through the doors. I took over 30 pictures and finally minimized it down to 15ish pictures. I struggled with the layering of this photo the most because the actual table in the painting is a lot longer, but I had to make do by scooting everyone a lot closer. Ultimately, I am very proud of myself!
April 4, 2020
PLAN FOR FINAL
Final time already? Crazy!
Out of all the projects we've done for class I really enjoyed mainly two. I think I would like to focus on the collage project or the masking/selfie project as the main outline for my ideas.

I enjoyed the collage project because of how organized I could make it. The idea of making more collages of my aesthetic or my personality would be cool / do more collages of what I already started – like a polyptych.

The other idea I had revolves around the selfie project. I was going to try to remake famous paintings with multiple people, but with only me being the subject matter. I was thinking famous photos like 'The Last Supper', 'American Gothic', 'The Birth of Venus', or 'Bal du moulin de la Galette'. Some of these paintings would be harder than others to remake, but I think it would connect back to my interests.
March 9, 2020
COLOR CORRECTION
I enjoyed color correcting in class today because I was super familiar with a lot of the elements/tools in Lightroom. I edit pictures for my instagram and my photography class a lot. I like the edit I made on the cityscape so I decided to make it a preset/filter and transfer it to the third photo.
February 19, 2020
COLLAGE PROJECT
My inspiration behind this collage was to incorporate different pictures of objects/things that I think are apart of my aesthetic. This includes: the beach, art history, vegetation, retro items, and the desert. I spent A LOT of time playing with over-lapping layers, various eraser tool brushes, and the lasso tool. The lasso tool was very useful in selecting the subject matter out of some of the pictures I used. The eraser tool helped me a lot too with blending the over-lapping pictures together, especially the sea foam. I had a lot of fun creating this collage because it incorporates a lot of the things I love and because now I can use it as a cool phone wallpaper.
February 12, 2020
ALBUM COVERS
FEBRUARY 3, 2020
LOGOS
I decided to make a logo for a non-existent skateboard company. I use to skateboard a lot in middle school and high school and I always thought it would be cool to have my own skateboard company. I really like the aesthetic of circles logos because I feel like they're very traditional for skating and surfing brands. I digitally drew the skateboard; used various tools like the text font tool, shape tool, and direct-selection tool; and played with the layers to fill in the skateboard and circles with color.
January 23, 2020
PATTERNS
I started this pattern with the idea of honeycombs in mind but without the honey-yellow color but instead by using vibrant pinks and purples. I created this by making a gradient background and adding various shapes like hexagons and rectangles. I then decided to weave the shapes in and out of each other to add more depth.
I decided to do this pattern based off of one of my painting projects. The painting I created was an 80's themed room. The wallpaper in the room resembled a classic 80's pattern. I decided to graphical remake this wallpaper pattern.
January 15, 2020
My favorite 3 types of digital art that express my personal aesthetic would be: 1. poorly done memes, 2. pixel art, and 3. digital collages.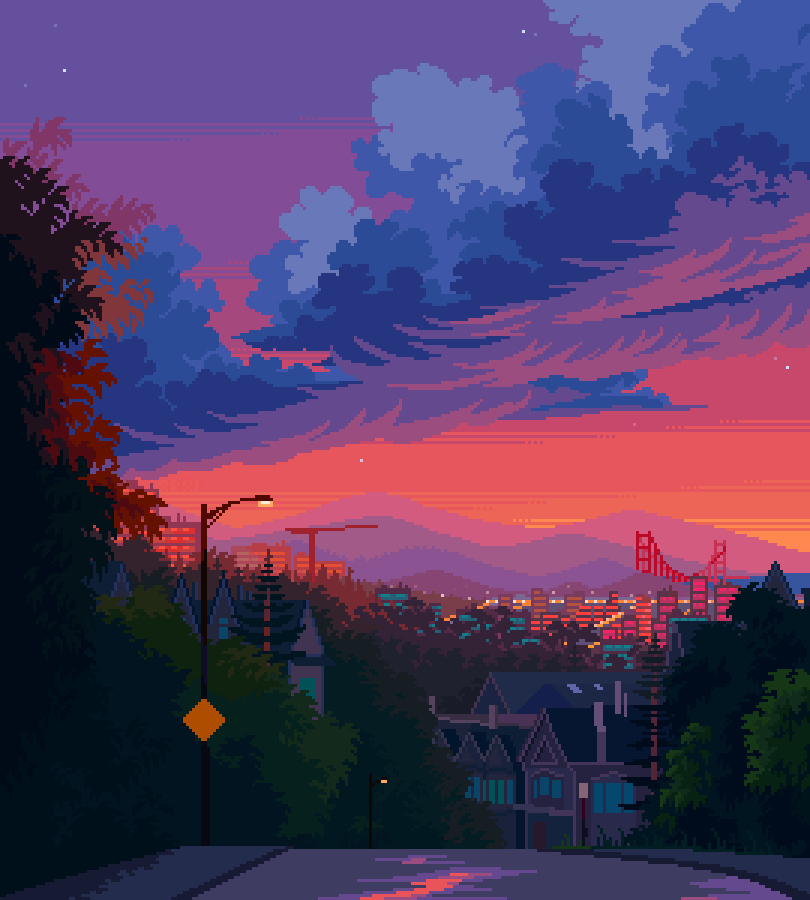 These types of digital art relate to my personal aesthetic because they include humor, color, patterns, and a sense of surrealism. I chose poorly done memes because I think that everyone can find them funny and enjoy them, especially twitter ones. I included pixel art because I love the vibrant colors and nostalgic video game feel that it brings to the table. Last but not least, digital collages are something I find very pleasing to look at. I enjoy works by Bri Lamkin who focuses mainly on vintage imagery in her collages. I love the look of these collages because multiple textures and patterns can be incorporated.